Ziziphus jujuba Mill. - Rhamnaceae - syn. Ziziphus zizyphus (L.) H.Karst., Ziziphus vulgaris Lam., Ziziphus sativa Gaertn.
jujube, red date, chinese date, Chinesische Jujube, Kahlblättrige Jujube, Chinesische Dattel, Brustbeere
Spiny shrub, native to southern Asia, up to 10m high; leaves alternate, lanceolate-ovate, glabrous, notched, with 3 strong veins; flowers small, yellow; berries ovoid, mature ones reddish-brown.
This shrub is cultivated in Italy and Spain. The delicious and nutritious (caloric, ascorbic acid) fruits are eaten fresh or dried. Tea from dried fruits is used to treat bronchitis, hence the german name "Brustbeere".
"The freshly harvested, as well as the candied dried fruit, are often eaten as a snack, or with coffee. Smoked jujubes are consumed in Vietnam and are referred to as black jujubes. Both China and Korea produce a sweetened tea syrup containing jujube fruit in glass jars, and canned jujube tea or jujube tea in the form of teabags."
http://en.wikipedia.org/wiki/Jujube
http://de.wikipedia.org/wiki/Chinesische_Jujube
http://es.wikipedia.org/wiki/Ziziphus_zizyphus
Dried jujubes (Z. jujuba Mill. cv. "tangzao", cv. "muzao", cv. "lizao", and cv. "qingrunhongzao") were analyzed by gas chromatography-olfactometry (GC-O). The aroma impact compounds with the highest FD factors (>=64) were 2,3-butanedione (buttery), hexanal (green), 2-methylpyrazine (roasted), (E)-2-hexenal (green), 2,5-dimethylpyrazine (nutty, roasted), (E)-2-heptenal (grassy), 2,6-dimethylpyrazine (nutty), 2,3,5-trimethylpyrazine (nutty), (E)-2-octenal (fatty), benzaldehyde (almond), β-damascenone (sweet, fruity), and benzylalcohol (floral).
[Wang, Lina, et al. "Characterization of aroma-impact compounds in dry jujubes (Ziziphus jujube Mill.) by aroma extract dilution analysis (AEDA) and gas chromatography-mass spectrometer (GC-MS)." International Journal of Food Properties 21.1 (2018): 1844-1853]
https://www.tandfonline.com/doi/full/10.1080/10942912.2016.1273234
"The volatile compounds of jujube (Ziziphus jujube Mill.) puree obtained from three cultivars, 'Jinsixiaozao' (Y1), 'Youzao' (Y2), and 'Yuzao' (Y3), were analyzed by gas chromatography-olfactometry (GC-O), gas chromatography-mass spectrometry, gas chromatography-flame photometric detection, and a nitrogen phosphorus detector. The results showed that a total of 37, 37, and 35 odor-active compounds were identified by GC-O in samples of Y1, Y2, and Y3, respectively. In addition, the odor activity value (OAV) was used to determine the important compounds. The results demonstrated that hexanal (OAV of 39-85), (E)-2-octenal (OAV of 32-70), β-damascenone (OAV of 14-49), ethyl hexanoate (OAV of 22-39), 3-mercaptohexyl acetate (OAV of 17-24), and 2,5-dimethylpyrazine (OAV of 17-22) were key odor-active compounds…"
[Zhu, Jiancai, and Zuobing Xiao. "Characterization of the major odor-active compounds in dry jujube cultivars by application of gas chromatography-olfactometry and odor activity value." Journal of agricultural and food chemistry 66.29 (2018): 7722-7734]
---
"Sedative principles of the seeds of Zizyphus vulgaris var.spinosus have been characterized as sanjoinine-A (frangufoline), nuciferine and their congeners. Also, heat treatment of sanjoinine-A produced a more active artifact, sanjoinine-Ahl, which provides a scientific basis for heat-processing (roasting) of this Oriental medicine."
[Alkaloids are the sedative principles of the seeds of Zizyphus vulgaris var.spinosus. Byung Hoon Han, Myung Hwan Park. Archives of Pharmacal Research, December 1987, Volume 10, Issue 4, pp 203-207]
"… used traditionally as tonic and aphrodisiac and sometimes as Hypnotic-sedative and Anxiolytic, anticancer (Melanoma cells), Antifungal, Antibacterial, Antiulcer, Anti-inflammatory, Cognitive, Antispastic, Antifertility/contraception, Hypotensive and Antinephritic, Cardiotonic, Antioxidant, Immunostimulant, and Wound healing properties. It possesses allied compounds viz. Ascorbic acid, thiamine, riboflavin-bioflavonoids and Pectin A and various chemical substances like Mauritine-A; Amphibine-H; Jubanine-A; Jubanine-B; Mucronine-D and Nummularine-B. Sativanine-E. Frangufoline, Ziziphine-A to Q, betulinic acid colubrinic acid, alphitolic acid, 3-O-cis-p-coumaroylalphitolic acid, 3-O-transp­coumaroylalphitolic acid, 3-O-cis-p-coumaroylmaslinic acid, 3-O-trans-pcoumaroylmaslinic acid, oleanolic acid, betulonic acid, oleanonic acid, zizyberenalic acid and betulinic acid, jujubosides A, B, A1 B1 and C and acetyljujuboside B and the protojujubosides A, B and B1, saponin, ziziphin, from the dried leaves of Z. jujube - 3-O-a-L-rhamnopyranosyl (1-2)-a­arabinopyranosyl-20-O- (2,3)-di-O-acetyl-a-L-rhamnopyranosyl jujubogenin. Saponin from leaves and stem are 3-O-((2-O-alpha-D-furopyranosyl-3-O-beta-D-glucopyranosyl)- alpha-L-arabinopyranosyl) jujubogenin and 6'-sinapoylspinosin, 6'-feruloylspinosin and 6'-p-coumaroylspinosin. The present review discusses photo-chemistry, pharmacology, medicinal properties and biological activities of Za jujuba and its usage in different ailments."
[Mahajan R T, Chopda M Z. Phyto-Pharmacology of Ziziphus jujuba Mill- A plant review. Phcog Rev 2009 ;3:320-9]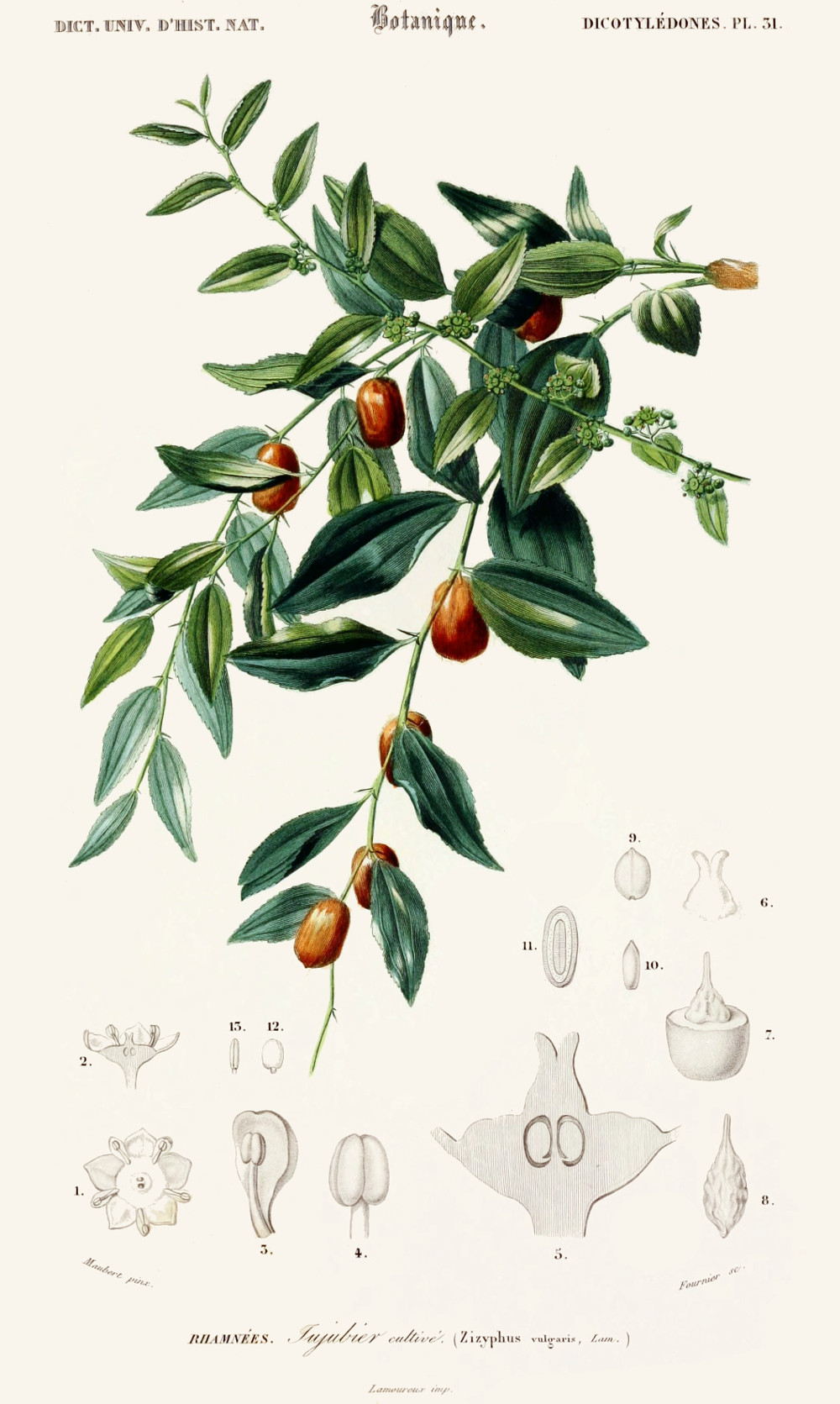 Ziziphus jujuba as Ziziphus vulgaris Lam., d' Orbigny, C.V.D., Dictionnaire universel d'histoire naturelle, plates vol.3 t.37 [Dicotylédones 31] (1841-1849)
http://plantgenera.org/species.php?id_species=1083115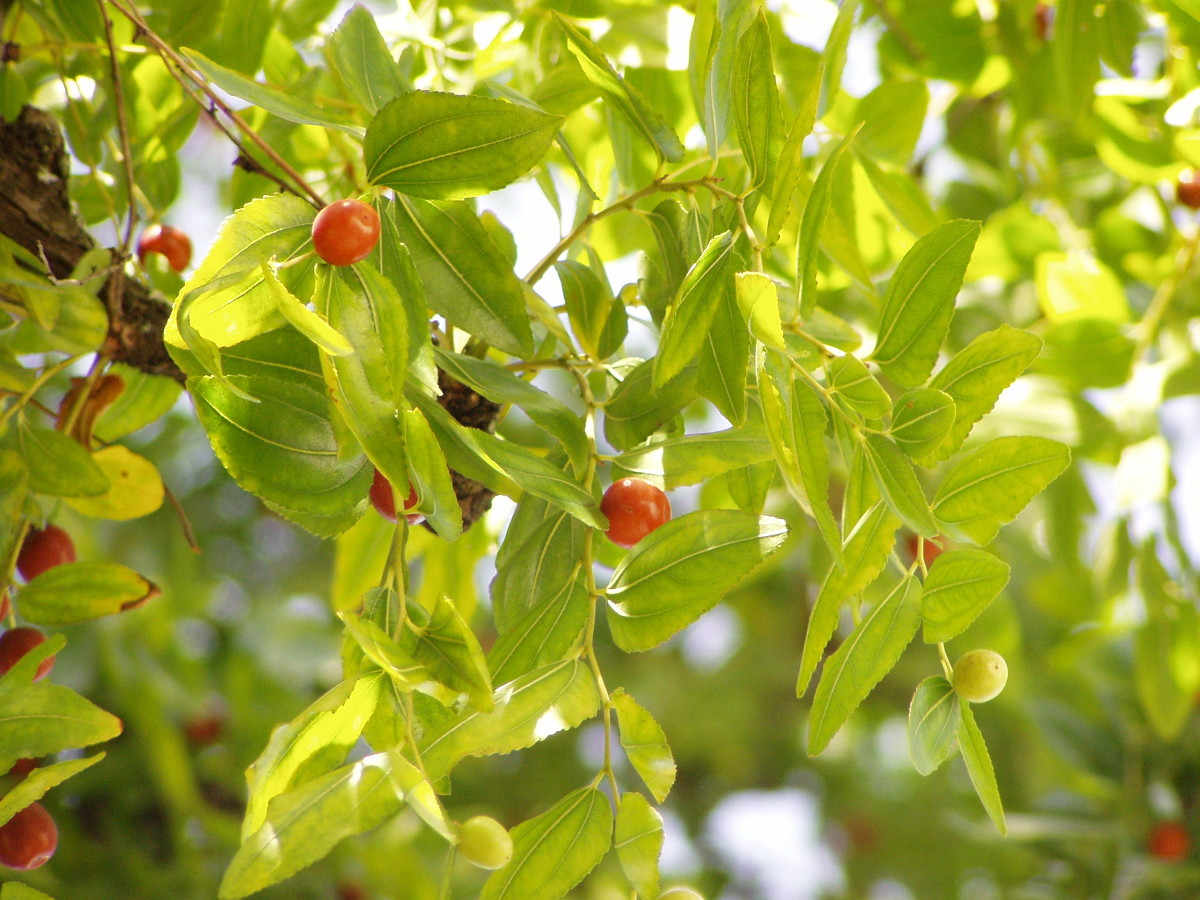 jujube foliage with fruits, Wikimedia Commons, Author: Júlio Reis, Attribution 3.0 Unported (CC BY 3.0)