Quercus robur L. - syn. Quercus pedunculata Ehrh. - Fagaceae
common oak, English oak, pedunculate oak, Stieleiche, Sommereiche, Deutsche Eiche
Deciduous monoecious tree, up to 50m tall, native to Europe, West Asia; leaves obovate, margin with 5-7 rounded or retuse lobes on each side; male inflorescences pendulous, 2-4cm long, flowers yellowish green; female inflorescences axillary on apical part of young shoot, 0.5-2cm; characteristic fruits - acorns, solitary or 2-5 on the same stalk, ovoid to ovoid-ellipsoid, up to 2.5cm long.
Polyphenol content of Q.robur was found: outer bark 2.6%, inner bark 8.6% (d.w.).
[Polyphenols of Quercus robur: adult tree and in vitro grown calli and shoots., Scalbert, A., Monties, B., Favre, J.M., Phytochemistry, 27(11), 1988, 3483-3488]
The bark from young branches and trunks of young trees (of Q.petraeus and Q.robur) is harvested in spring and used to treat acute diarrhoea, stomach cramps, and inflammations of the skin or mucosa. The dried bark (oak bark, Quercus cortex, Cortex Quercus, Eichenrinde) contains tannins (up to 20%), mainly ellagitannins, catechins and oligomeric proanthocyanidins. The antimicrobial, antiviral, anthelminthic, anti-inflammatory and haemostyptic properties of oak decoctions are attributed to the protein-denaturing capabilities of tannin.
[Medicinal Plants of the World. Ben-Erik Van Wyk and Michael Wink, Pretoria 2004, 265]
Traditional use include symptomatic treatment of diarrhoea, inflammation of skin and mucosa to relief itching and burning (mouth, throat, anal and genital region).
[Wolfgang Blaschek ed., Wichtl - Teedrogen und Phytopharmaka: Ein Handbuch für die Praxis, 2015, 535-537]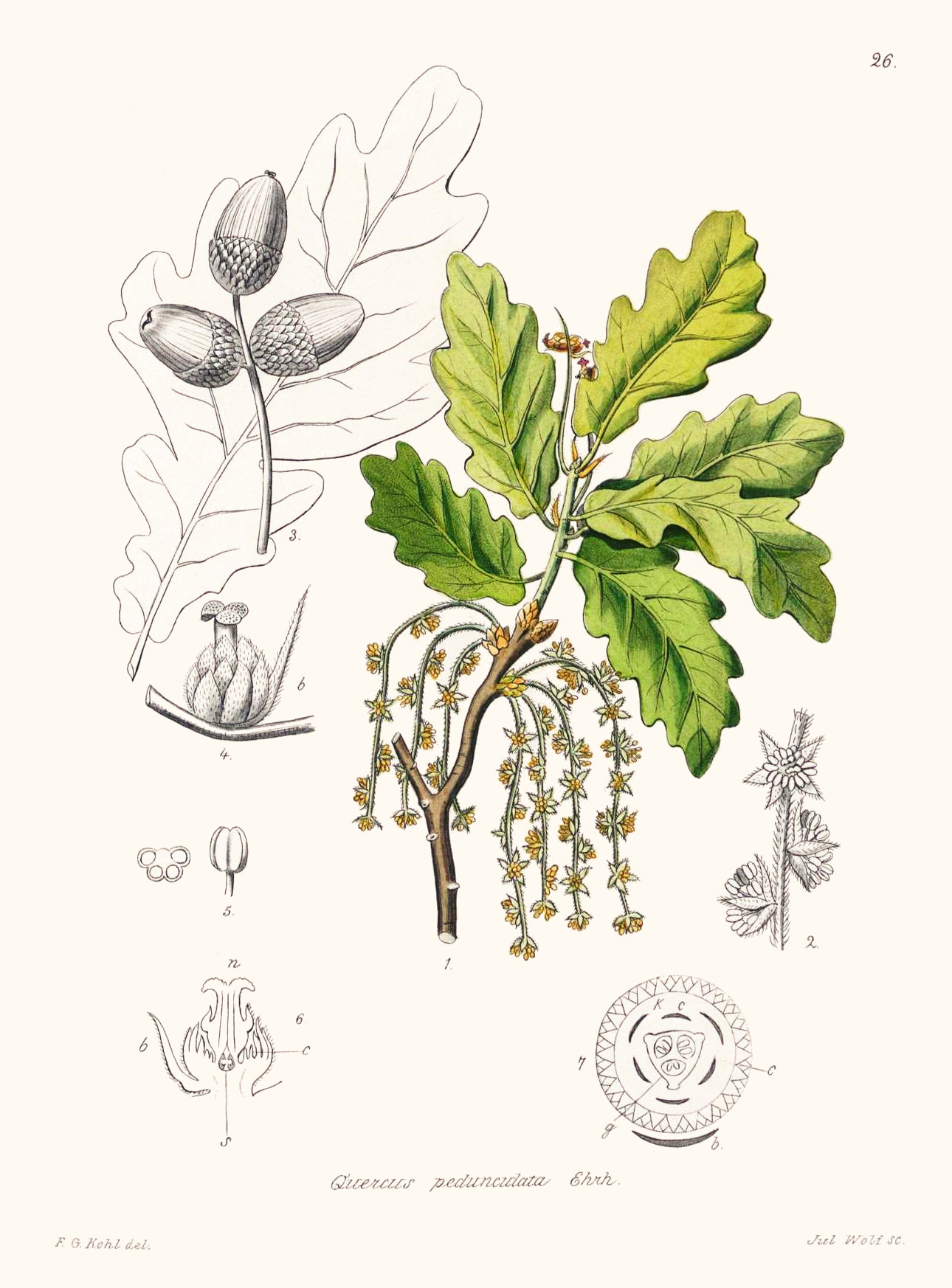 Quercus robur L. as Quercus pedunculata Ehrh.
Kohl,F.G., Die officinellen Pflanzen der Pharmacopoea Germanica, t.26 (1891-1895)
http://plantgenera.org/species.php?id_species=861629

Quercus robur
© Rolf Marschner (2006), www.botanische-spaziergaenge.at