Corylus maxima Mill. - Betulaceae - (giant) filbert, Lambersthasel, Lambertnuß
The latin name is not accepted as C.maxima is seen as a form of Corylus avellana.
Deciduous shrub or tree, up to 10m tall, native to southeastern Europe and southwestern Asia; leaves round to ovate (a purple-leaved form is grown as ornamental); flowers in catkins produced in late winter, the male pale yellow, female bright red; nuts 1.5-2.5cm long, fully enclosed in a 3-5 cm long husk.
C. maxima is more sensitive to cold than C.avellana. Their main growing area is located in the Turkish Black Sea region, where three-quarters of the world's produced commercially available "hazelnuts" are produced. http://de.wikipedia.org/wiki/Lambertshasel
Giant filberts are bigger and taste slightly sweeter than the fruits of C.avellana.
http://www.botanik-bochum.de/jahrbuch/Pflanzenportraet_Corylus_avellana.pdf
Volatiles of hazelnut oil (Turkey, cold-pressed from roasted seeds) were characterized by high amounts of acetic acid (33.7%), 3-methylbutanal (19.1%), 2-methylbutanal (14.0%), and hexanal (3.3%). Compounds with known impact on roasted notes were 2-methylpyrazine (3.2%), furfural (2.3%), furfurylalcohol (0.5%), dimethylpyrazines (4.4%), γ-butyrolactone (1.1%), and benzaldehyde (0.7%).
[Bail, Stefanie, et al. "Characterization of volatile compounds and triacylglycerol profiles of nut oils using SPME‐GC‐MS and MALDI‐TOF‐MS." European journal of lipid science and technology 111.2 (2009): 170-182]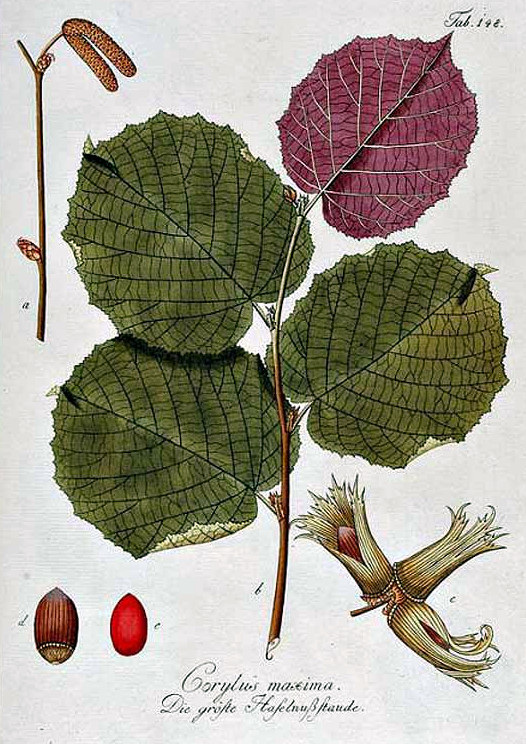 Schultz, F.J., Abbildung der in- und ausländischen Bäume, Stauden und Sträuche, welche in Oestreich fortkommen, vol. 1: t. 148 (1839)
http://www.plantillustrations.org/species.php?id_species=278054