Alchemilla vulgaris L. - syn. Alchemilla xanthochlora Rothm. - Rosaceae
ladies mantle, lions foot, Gemeiner Frauenmantel, Marienmantel, Echter Sinau
Perennial herb, native to Central and Eastern Europe, naturalized in eastern North America; mostly hairy, from a very thick rhizome; stems 5-50 cm; leaves reniform, 3-10 cm wide, shallowly and roundly 5-9 lobed , the lobes sharply serrate; flowers yellow, 3.5-5mm wide, in large, branched, terminal panicles.
The dried aerial parts, collected at flowering time (May-August, Alchemilla vulgaris herb, Alchemilla, ladies mantle, Herba Alchemillae, Herba Alchemillae vulgaris, Alchemillae herba, Frauenmantelkraut), are used as astringent and anti-haemorrhagic. "The plant is considered useful in treating minor cases of diarrhoea, sore throat and externally for sores and septic wounds. Traditional uses include gynaecological ailments, especially dysmenorrhoea… High concentraions of ellagitannins (6-8%) are present, including agrimoniin, laevigatin F and pedunculagenin."
[Medicinal Plants of the World. Ben-Erik Van Wyk and Michael Wink, Pretoria 2004, 37]
A. vulgaris is a herbal drug included in the European Pharmacopoeia (Ph.Eur.) and is quantified by its tannin content (min.6%). Plant material of commerce contained 7-10% tannins with mainly ellagic acid (HPLC, 1.5-2.5% of dried material weight).
[Characterisation of tannin‐containing herbal drugs by HPLC., Møller, C., Hansen, S.H., Cornett, C., Phytochemical analysis, Vol.20(3), 2009, 231-239]
"Acetone/water extracts from the leaves, including stalks, of Alchemilla vulgaris L. and A. mollis (Buser) Rothm. were investigated for their phenolic composition by liquid chromatography- tandem mass spectrometry (LC-MS/MS). A total of 24 and 27 compounds were detected for A. vulgaris and A. mollis, respectively. Pedunculagin and agrimoniin, as described in earlier reports for A. vulgaris, as well as other monomeric and oligomeric ellagitannins such as sanguiin H-10, castalagin/vescalagin, and galloyl-bis-hexahydroxydiphenoyl (HHDP) hexose constituted the major phenolic fraction of both plant species."
[Phenolic constituents from Alchemilla vulgaris L. and Alchemilla mollis (Buser) Rothm. at different dates of harvest., Duckstein, S.M., Lotter, E.M., Meyer, U., Lindequist, U., Stintzing, F.C., Zeitschrift für Naturforschung C, Vol.67(11-12), 2012, 529-540]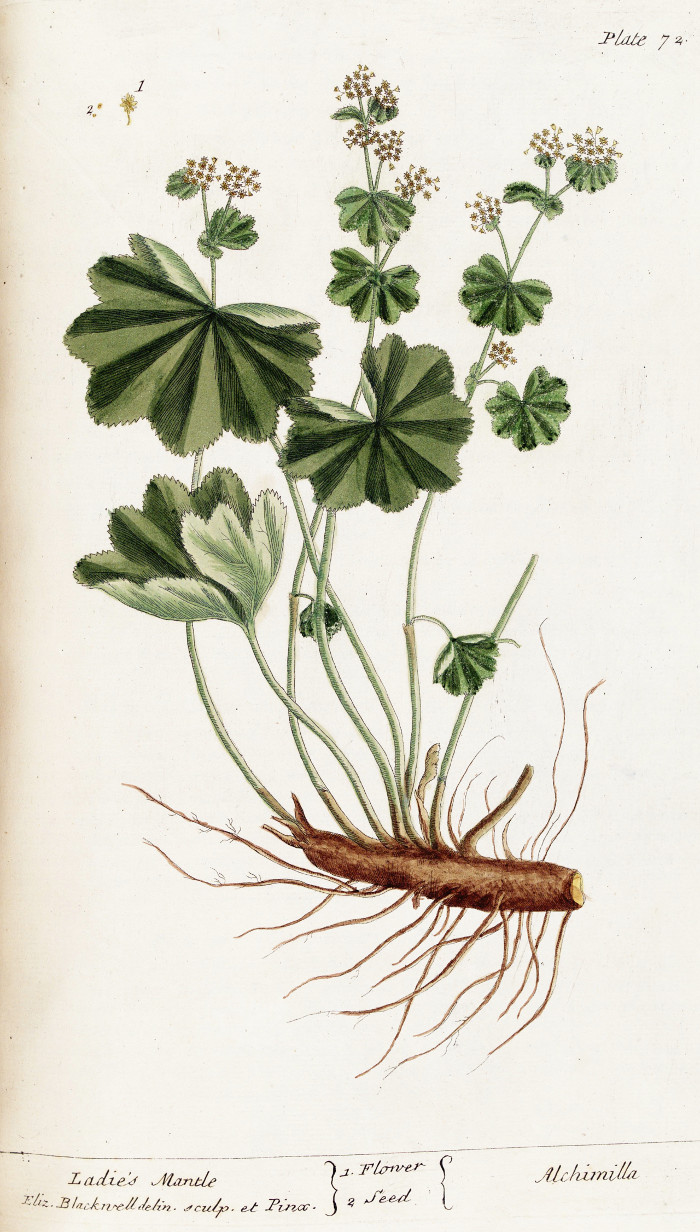 Blackwell,E., A curious herbal, vol.1, t.72 (1737) [E.Blackwell]
http://plantgenera.org/species.php?id_species=37133